May 9, 2019
Properties
Switches are organized into layers or stages, such as a leaf layer and a spine layer.
Switches can be all the same model or a couple models. Switches are typically lower cost 1RU fixed-configuration switches instead of large chassis switches.
Switches only connect to switches in other layers. For example, leaves only connect to spines and spines only connect to leaves.
All links between switches are layer 3 links, never layer 2. Layer 2/VLANs/Spanning-tree are confined to a single switch. All links will be able to use ECMP (Equal Cost Multi-Path), and switches typically support 16 links in ECMP.
The fabric is non-blocking. This means that any server connected to the fabric can utilize its entire link bandwidth to communicate with other endpoints anywhere in the fabric. For example, a file transfer between servers A and Z will not be throttled by a file transfer between servers B and Y due to all four servers sharing an oversubsribed link somewhere in the fabric.
Non-blocking is achieved by every stage having the same number of links or bandwidth connecting to the other stages on either side.
The bandwidth impact of a loss of a single switch can be minimized by increasing the number of switches in the fabric.
Network can be scaled by adding additional stages.
Diagram

Fault tolerance
If a spine switch is lost, only 12.5% of the bandwidth of the fabric is lost. In the classic architecture with two large distribution switches, a failure results in 50% of bandwidth loss.
Scaling
The design above is technically a 3-stage clos network, but the two leaf stages are depicted as one big stage. To scale up to handle more leaves, a 5-stage clos network can be implemented: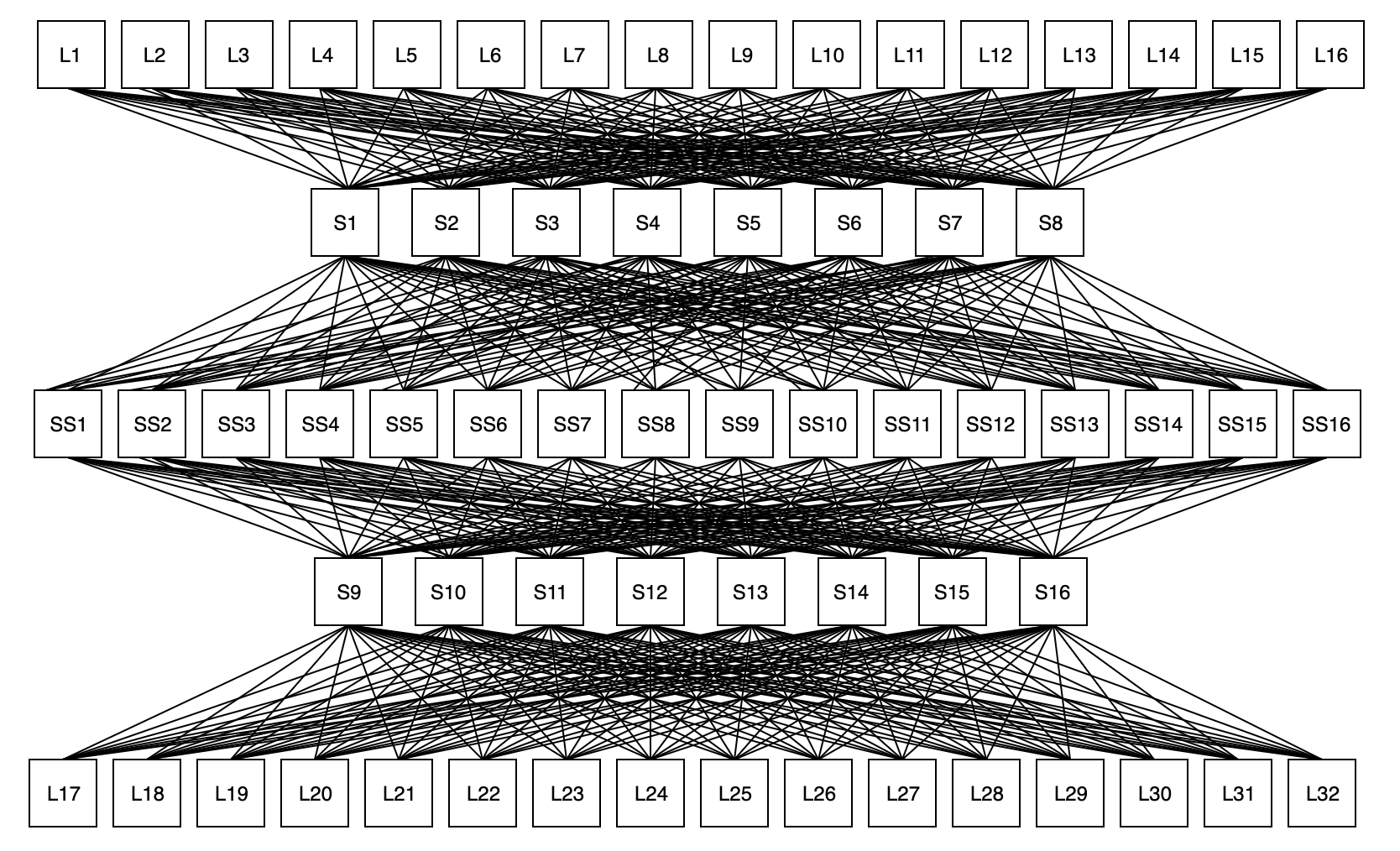 Credits:
Petr Lapukhov's RFC: Use of BGP for Routing in Large-Scale Data Centers